OOO RRVD was founded as the manufacturer of high-pressure hoses for agricultural equipment. We manufacture high-pressure hoses in agricultural region of Southern Federal District of Russia, city of Rostov-on-Don.
Company's brief history
From 2003 our company works side by side with the Bizon company, leader in sales of agricultural equipment and components in Russian Federation.
In July 2003 OOO RRVD signed the Contract for high-pressure hoses supply for assembly line in OAO KZ Rostselmash,and in 2005, after two years of cooperation, our company becomes main supplier of Rostselmash.
Upgrading combine harvesters hydraulics RRVD technical department works closely with Rostselmash plant, RRVD manufactures test models of high-pressure hoses for new agricultural product development.
Our goals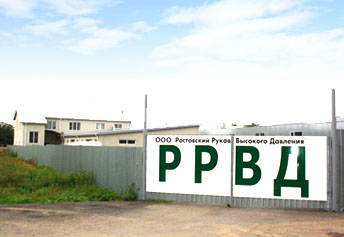 Our main goal is manufacturing of best-quality high-pressure hoses. The agricultural equipment must work properly and smoothly.
We attend to each detail and apply rigorous control checks to each component. We use professional equipment and high-quality components only, that let us introduce ourselves as strong company providing competitive product confirming European and Global Standards, built-to-order and on customer's demand.
Modern equipment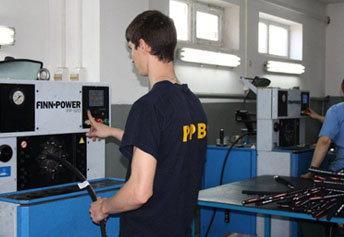 High-pressure hoses are manufactured with modern equipment in accordance with European and International Standards. We use foreign components and it gives good reliability and working capacity to equipment.
We use our own technologies and certified components from best suppliers. We guarantee high quality of RRVD high-pressure hoses.
We participate in exhibitions, always stay in touch with our Customers and Partners, we are always informed about latest trends in high-pressure hoses market, and so we provide modern high quality products to our Customers.
With our creativity and technical potential we face the future with confidence, we increase product range and provide to our Partners technical solutions, on-time delivery and long-term mutually beneficial cooperation.
In order to provide to our Customers the best price we cut our expenses and pay much attention to logistics: purchase, manufacturing, stock, sales etc. Our competitive advantage is Quality Management System ISO 9001:2015 (GOST ISO 9001-2011).
We have a portfolio of positive responses from our Customers behind. With our long-term cooperation we keep on improving application properties of our high-pressure hoses.
At the present time OOO RRVD takes one of the leading places among the manufacturers of high-pressure hoses in Russia. Highly-skilled professionals are glad to help you.
Product range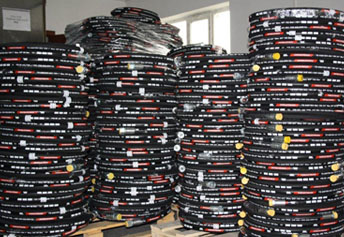 Our product range is comprised of high-pressure hoses used in hydraulics of agricultural, road and building machinery produced in Russia and foreign countries, as well as high-pressure hoses for metallurgical, mining, paper and pulp industries. We expand the range of products according to our customers and partners demand.
With increase of demand and growth in production volumes, we changed our approach to pursuit of business and we increased working space, bought new production equipment, engaged new specialists and added new hydraulic fixtures to our product range.